This Shower in Longwood, FL, Boasts a Renewed Appearance After Our Tile Cleaning Service
October 11, 2023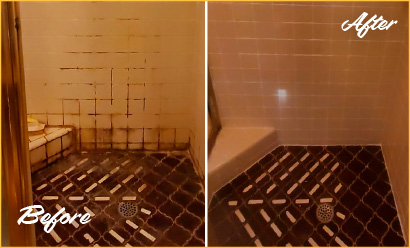 Keeping tiled surfaces in top condition is a challenging task. Regular cleaning is ineffective against certain issues, and depending on the damage, the solution may require more than a store-bought cleaner. A resident from Longwood, FL, was looking to improve the appearance of her shower. After years of enduring constant use, the surface had become shabby and unsightly. The owner had attempted to solve the problem herself, but nothing seemed to work. After weighing her options, she decided it would be best to seek professional assistance.
The solution was at her fingertips. By typing
tile cleaning services in Longwood, Florida
, into her search engine, she found Sir Grout Central Florida, and got all the information she needed. After browsing our user-friendly site, reading some of our informative blog posts, and seeing the positive reviews we receive daily, she was convinced we were the best option. Hoping to solve her problem, she requested a free evaluation.
The in-home consultation began a few days later. As we entered the shower, we immediately noticed the shower was in poor condition. The grout had decayed and looked dark and unappealing, while the tiles were dingy and unappealing, giving the surface a run-down appearance. Additionally, the grout lines needed sealing. It was essential to address this issue as this porous mixture could absorb external agents that could cause more damage. To prevent further deterioration, it was imperative to apply a special sealant.
We were ready to discuss a solution with the owner upon reaching a satisfactory conclusion. After careful examination, we realized that the surface required professional treatment. Therefore, we suggested our tile cleaning services, which would transform the surface and give the shower a refreshed look. Before providing a quote, we conducted a brief test to demonstrate the effectiveness of our methods. The owner was impressed with the results, and the offer met her expectations.
We returned a few days later with all the necessary equipment to begin the restoration process. Our first step was to clean the surface using our exclusive cleaner, composed of high-quality ingredients and leaves no residue so that it won't cause any damage. Next, we steam-cleaned the area to remove embedded dirt. Finally, we took care of the grout.
Restoring this vulnerable component can be challenging as standard methods may not be enough to deal with severe damage, stains, or discoloration. For many homeowners, this chore can eventually become a headache. However, Sir Grout Central Florida has the tools and expertise to fix any damage to the surface. We worked on the entire area, giving the grout lines a new look and ensuring a fresh and renewed appearance. For the following step, we sealed the surface.
We used Sir Grout's flagship sealant, ColorSeal, to accomplish this task. Our high-quality product offers top-notch defense, warding off dirt, grime, and other external agents. This reduces deterioration and makes cleaning routines easy and fast. ColorSeal gives the grout a uniform color and a brand-new appearance, significantly improving the surface. With a wide range of colors, our clients can easily find the most suitable to their tastes.
Our performance was excellent, and as expected, the surface had been flawlessly restored, and the shower now appeared entirely brand-new. We were eager to present the results to our client. Upon entering the area, the owner's joy was apparent. She was delighted that her shower was now immaculate and looked amazing. Before we left, she expressed gratitude, promising to recommend our services to everyone.
Showers are subjected to significant wear and tear, which can cause quick deterioration and damage. Because of this, they require proper care. To achieve optimal maintenance procedures, it's essential to follow our recommendations. We advise setting a weekly cleaning routine using pH-neutral and soap-free cleaners, such as
Sir Grout's Natural Hard Surface Cleaner
.
Our product is the best option available in the market, providing numerous benefits and delivering exceptional results. Furthermore, it is non-toxic and safe for everyone in your household, including your pets. We strongly advise against using soap-based products as they contain harsh chemicals that can harm the surface. Moreover, they leave behind a residue that can damage the grout, causing stains, discoloration, and other issues.
Mold and mildew thrive in damp environments, posing a significant health risk to everyone in the house. It's crucial to take necessary measures to prevent their growth. To avoid this problem, ensure the area is well-lit, provide a source of fresh air by leaving the door ajar or window open, and always dry the surface with a squeegee, towel, or terry cloth. Regular squeegeeing also helps to minimize the accumulation of dirt.
Are you struggling with the maintenance of your shower? Don't worry, Sir Grout Central Florida's tile cleaning experts can help you. Leave your hard surface problems in the past and contact us today by calling
(407) 829-4488
or by
scheduling a free quote
. If you would like to see more, check out our
picture gallery
. Please consider subscribing to our
newsletter
, so you don't miss our latest promotions and updates.